Court Marriage | Meaning, Conditions, Documents Required & Fee
Court Marriage: Meaning, Conditions, Documents, and Fee
Court Marriage Nikah Nama & Requirements For Court Marriage: Court marriage of a Muslim couple requires a Nikah Nama. Court marriage differs from usual marriage, just in because for court marriage, approval of parents of the couple is not required.
Court marriage, like traditional marriages, is the legal union of a man and a woman in front of the Magistrate, Justice of Peace, a lawyer and the Nikah Khawan/Nikah Registrar. One person becomes the life partner of another person after marriage. In this kind of marriage, a lawyer and Nikah Khawan perform the Nikah proceeding, and the law recognizes and approves it. The law of Pakistan allows couples to use their constitutional right to marry with their free will and consent to enter into an official union through a court marriage.
Despite its appearance, court marriages aren't complicated at all. In some ways, court marriage is a pretty straightforward and simple process. In most states, the marriage will be made legal and official by a registrar or magistrate with the aid of a lawyer and the court. An affidavit must be signed by both the bride and groom as well as the witnesses of the nikah. Following the signing of the affidavit, a Shara'i Nikah must be recited and a Nikahnama (Marriage Contract) must be prepared. Depending on your local area, you can also apply to your local Union Council for your NADRA marriage certificate. You require to submit a copy of your Nikah Nama and copies of CNICs of bride and groom and their parents. A marriage that needs to be registered as a non-registered marriage is regarded as a criminal offense.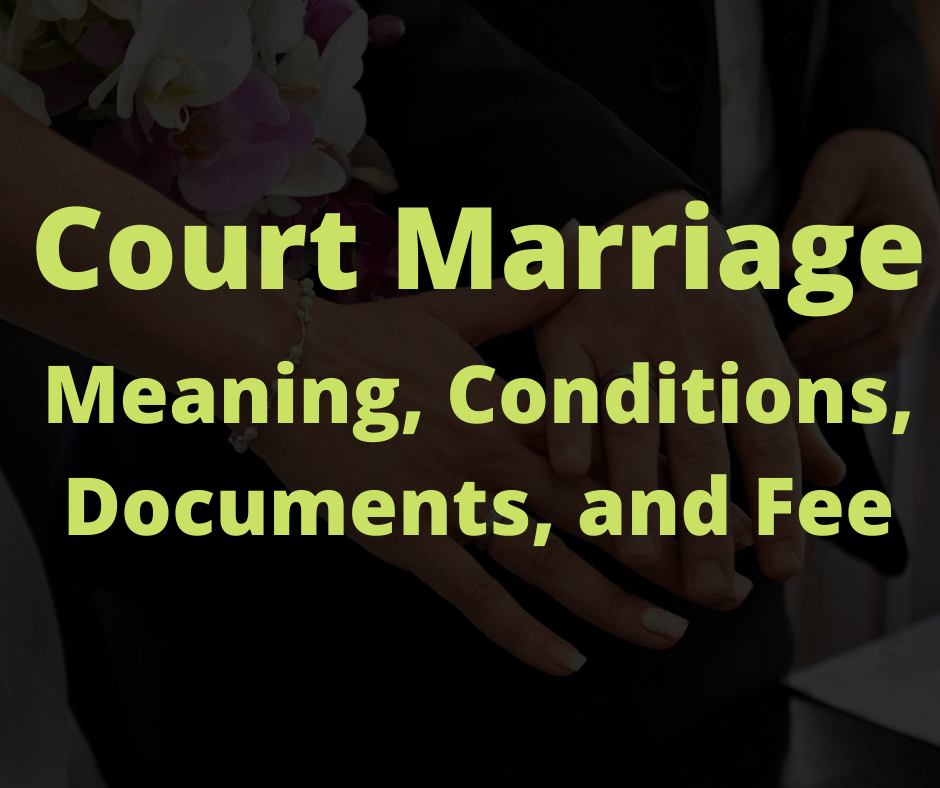 Conditions of Court Marriage
As part of Pakistan's Constitution, the right to choose one's spouse is guaranteed. In Pakistan, court marriages are very simple. Interested parties have to satisfy a few requirements:
 A Muslim's marriage age is the age of puberty. According to the law, the marriage age is 18 years old, which is the age of the majority. To get married, a girl must be 16 years old, and a boy must be 18 years old.

Pakistani marriages are always between opposite sexes. Lesbian or Homosexual marriage in Pakistan is a punishable offense.

Marriage should only be performed by couples who are free to consent to it.

 
Which Documents Are Required For Court Marriage?
There are many law firms that provide assistance and provide information about how to do court marriage. The legal process and paperwork of a court marriage require a few documents:
A CNIC or passport must be held by both partners in the marriage. You can also use the matriculation certificate or the B form if both are not present.

At least two witnesses should be present from both sides of the marriage. (Sometimes Law firms provides that too)

 Four or six passport-sized photographs.

A statement /affidavit of free will or free consent from the bride's side

In case of a second marriage, the bride must present a valid divorce certificate or death certificate of her deceased husband.

If the groom marries a second time, his first wife must give her valid permission.
A "NADRA Marriage Certificate" issued by the Union council will be obtained with the nikahnama and other documents sent to the Union council after the marriage.
How Can I Do Court Marriage In Pakistan?
A copy of your national identification card, four to six photographs with white or blue backgrounds, as well as proof of your age and identity are required if you plan to have a legal court marriage. For a girl to get married, she must be 16 years old, and for a boy, he must be 18 years old.

The court marriage system in Pakistan differs from that of other western countries. Those of us who have reached the age of puberty have the right to contract a marriage with each other and the Constitution of Pakistan provides protection to family and also gives rights to celebrate marriages. Pakistan does not allow same-gender marriages. Court marriages require the following documentation 

Both the bride and groom should have their CNICs or any proof of age.

A total of four to six passport-size photographs.

A free-will affidavit is usually signed by the bride.

Valid divorce certificates or death certificates of the deceased husband are required in the case of the second marriage of the bride. A copy of the deceased husband's death certificate must also be provided
Fee or Cost of Court Marriage in Pakistan?
Court marriages in Pakistan do not have official fees, but the couple has to pay for the fees of a lawyer, paperwork, attestation by the judge, and Nikah registration charges. Lawyers and nikah khawans in Pakistan do not have a set fee, so they charge based upon their experiences.
An average lawyer charges between Rs. 15,000 and Rs. 50,000 for a court marriage. There are several law firms and advocates who provide court marriage services. But there is no doubt that Right Law Associates (Pvt) Limited has an unbeatable reputation in Pakistan, especially in Karachi, Islamabad, and Rawalpindi, because of its long experience and well established company. It is important to note that Right Law Associates (Pvt) Limited is one of only a few Private Limited Law Companies in Pakistan, whereas all other lawyers are practicing as individual advocates or law firms. This company is registered with Securirties and Exchange Commission of Pakistan and it has a Corporate Universal Identification Number (CUIN) i.e. 0190567. The SECP website has a search facility to check the name of a companies: https://www.secp.gov.pk/company-name-search/?searchCriteria=Contains&companyName=RIGHT+LAW+ASSOCIATES+
Right Law Associates is well known for keeping their client's personal information as secret and confidential as possible. They never divulge their identities to anyone or to any authority, including the police. Despite their influence and power, they can effectively protect you and your spouse. The fees for their services vary from Rs. 20,000 to Rs. 50,000 only on a case-by-case basis, since some matters require extra legal time and effort. It is sometimes necessary that they prepare a legal notice for the Police informing them of the legal marriage and making sure they do not file a false FIR against our clients because of their presence at the Police Station.