Court Marriage Process-Step by Step Procedure in Pakistan
Court Marriage Process/Procedure in Pakistan
Court Marriage Process/Procedure in Pakistan is the same as it was during the British rule in undivided India. The Constitution of Pakistan and Pakistani law allows a male and female who are 18 years of age or above to enter into marriage freely and with their free consent, without any coercion or pressure. These marriages are protected by the law in Pakistan. According to Pakistani law, court marriage is valid and legal within the country, and it is accepted and recognized all over the world.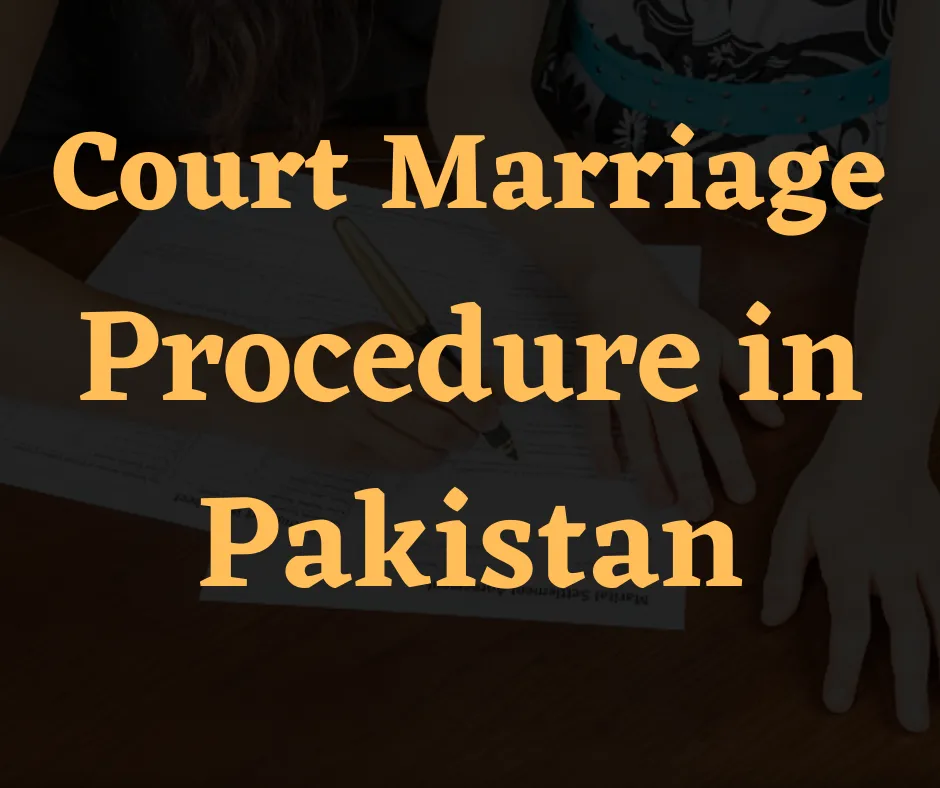 Step By Step
Procedure of Court Marriage
Step 1:
Court marriage procedure or process is very simple in Pakistan. First of all, both men and women must provide copies of their CNICs or passports or other identification documents like birth certificates, the educational certificates as evidence that they have reached the age of eighteen years, in order to verify their age and other personal information. In case any one or both of them do not have their identification documents, they should submit affidavits certifying that they are at least the age of majority/puberty must be provided..

Step 2:
In the second step the girl (bride) must sign an affidavit of her Free Will, swearing that she is sui- juris and she wants to marry a man (the groom) of her own choice with her own free will.

Step 3:
After scrutinizing the appropriate documentation, a religious Molvi/Qazi (Nikahkhawan) will perform their Nikah as per Sharia-e-Muhammadi (PBUH) in the presence of two male witnesses and fill out the Nikahnama (traditional marriage certificate/agreement. The husband, wife, two witnesses and the Nikah khawan will sign the Nikahnama.

Step 4:
The Nikahnama will be registered with the registered Nikah khawan and the two copies of the registered nikahnama will be hand-over to the newly married couple.

Step 5:
Afterward, the photocopy of the Nikahnama will be submitted to the concerned Union Council for municipal record and issuance of the Computerized Marriage Certificate, which is publicly called the NADRA Marriage Certificate. The Chairman of Union Council or the Secretary of Union Council will get the necessary information to enter in the computerized record as per the Nikah Nama and this record will also be kept with the NADRA and after recording it, the computerized marriage certificate will be issued by the Secretary of Union Council.

Legal Protection against harassment
In the case of harassment of any type occurring to the couple or the groom, before or after the court marriage, either the male or female can file a criminal case against those who harassed, or in addition, they can file a   constitutional petition for protection of their life and family in the concerned High Court. If anyone falsely lodged an FIR against the bride or groom, they can file a writ petition with the Supreme Court to have that FIR quashed.
Links About Court Marriage