NADRA Marriage Certificate
OR
NADRA Marriage Registration Certificate
NADRA Marriage Registration Certificate (MRC)
Nadra Marriage Certificate is also called as Nadra Marriage Registration Certificate (MRC) is official evidence of marriage. A guide to get a Nadra Marriage Certificate in Karachi, Islamabad & Lahore, Pakistan is hereunder:
There are 3 easy steps to get a Nadra Marriage Certificate in Karachi, Lahore & Islamabad, Pakistan. We provide legal help and complete assistance to get your Nadra Marriage Registration Certificate within a couple of days for a nominal legal service fee. 
Step-by-step Guide to get NADRA Marriage Certificate
Nadra marriage certificates serve as official evidence of marriage between an adult male and female. There are 5 Steps towards to get issued a NADRA marriage certificate:
You are required arranging all required documents and visit the relevant issuing Union Council office depending on your current address. NADRA marriage certificates can be issued by local union councils in all major cities, including Karachi, Lahore, Rawalpindi, Faisalabad, Multan, Hyderabad, and Peshawar, using NADRA-installed systems on a special paper. If you are a resident of a cantonment area, the marriage certificate can be obtained from a cantonment board office; if you are a resident of a small city, it can be obtained from the town management office; and If you are a resident of Islamabad, your NADRA marriage certificate can be obtained from the Arbitration Council office.





An application form for a NADRA marriage certificate must be submitted to the issuing office. Those who wish to do so should get the prescribed form from that office. You should submit your documents and payment along with your application.




 

You can pick up your NADRA marriage certificate on the given date. In most cases, NADRA marriage certificates are issued within 3-5 working days if all required documents are available. However, it may vary depending on the circumstances. The NADRA marriage certificate must contain all the correct information. Verify the details on your marriage certificate with your official documents. If the issuing office makes any typing mistake, you can request a correction.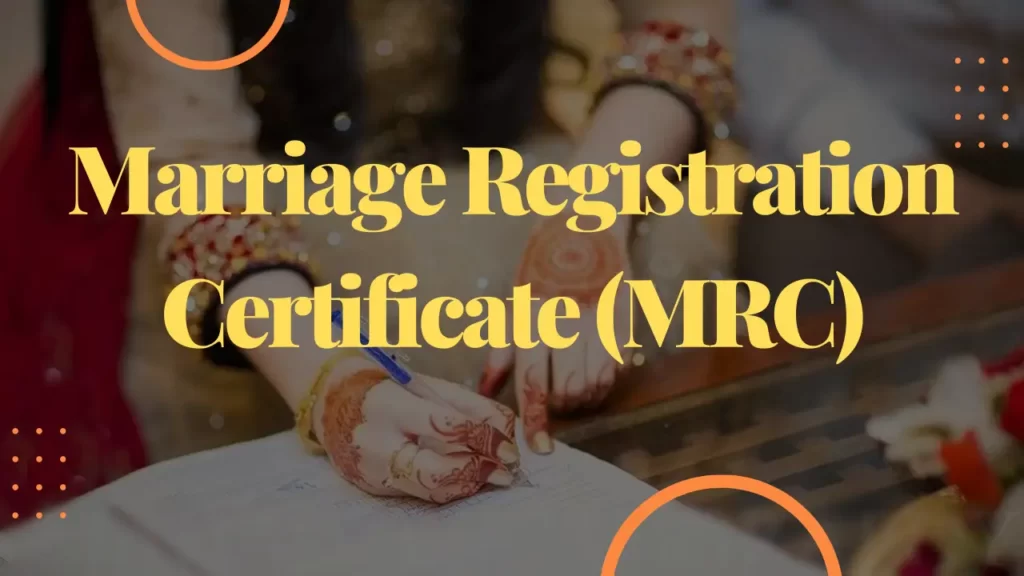 2 Types of Marriage Certificates in Pakistan
There are two types of marriage certificates available in Pakistan: (i) a manual certificate, referred to in Urdu as a Nikah Nama, and (ii) the NADRA computerized marriage certificate.
Nikah Nama – Urdu Manual Marriage Certificate
In the beginning, married couples get a manual Nikah Nama from the Nikah Khawan (Qazi) who solemnized the Nikah with official seal and signatures of a registered Nikah Khawan.
The Nikah Nama is an essential and mandatory document that contains all the important information regarding the marriage and the signatures of the bride, groom and witnesses, among others.
Computerized NADRA Marriage Certificate
The Nadra marriage certificate is a fully computerized document that includes both Urdu and English content. NADRA has also developed a special system for the issuance of NADRA marriage certificates, which is similar to NADRA birth certificates. However, NADRA does not directly issue these NADRA marriage certificates.
NADRA Marriage Certificate Issuing Authorities
Union Council, having territorial jurisdiction

Town Municipal Authority Office

Cantonment Board Office

Arbitration Council (Only in Islamabad)
Documents Required to Apply For NADRA Marriage Certificate
Copy of Manual Nikah Nama / Urdu Marriage Certificate

Copy of CNIC from the bride

Copy of CNIC from the bridegroom

Copy of father's CNIC from bride & bridegroom

Copy of CNIC from nikkah khawan (molvi)

Copies of passport in case anyone from bride or bridegroom is a foreigner