Online Marriage Procedure in Pakistan & Online Marriage Fees
Contact: Karachi 0336 3747047- Islamabad 0316 1119655 – Rawalpindi 0316 111 96 55 – Lahore – 0316 66 44 789
Online Marriage Procedure in Pakistan For Proxy Marriage and Online Marriage Fees
Online Marriage Procedure in Pakistan | Online Marriage Fees: For online marriages/Nikah or proxy marriages in Pakistan is not complicated. Online Marriage/Online Nikah through Wakil/attorney/proxy is valid in Islam and Pakistani laws. 
Online Nikah/Online Marriage Procedure in Pakistan For Proxy Marriage is Simple
Online Nikah/Online Marriage Procedure in Pakistan for Proxy Marriage/Online Nikah is very simple and it is almost same as it is across the globe.  Overseas Pakistanis have the option of online marriage who cannot attend their wedding ceremonies in their home country and can get married online through nikah online and get the marriage registered under Pakistani law. 
Online Nikah/Online Marriage Procedure in Pakistan can be performed on an online video link
Online Nikah/online marriage or online shadi can be performed by way of video link online, through Skype, Zoom or WhatsApp. Expat Pakistanis, who cannot attend their marriage ceremonies in their home country, have the option of getting married online through Nikah online under Pakistani law. Marriage ceremonies traditionally require both the bride and groom to be present at the Majlis-e-Nikah (Gathering of Nikah). By appointing a lawyer as attorney or proxy, it is possible to perform a marriage online in Pakistan
Does Pakistani Law Allow Online Nikah/Online Marriages?
Absolutely YES. Pakistani citizens who are legally able to marry (over the age of 18) may obtain an online Nikah or online marriage. The Nikahnama Registration and the NADRA Marriage Certificate will be applied and received by us on your behalf and send to your address.
Overseas Pakistani Can be Married Online
Pakistanis living overseas have access to online Nikah under the Pakistan Muslim Family Law Ordinance 1961 and the Family Courts Act 1964. In addition, both the laws and sharia laws endorse the online Nikah through proxy/Wakeel .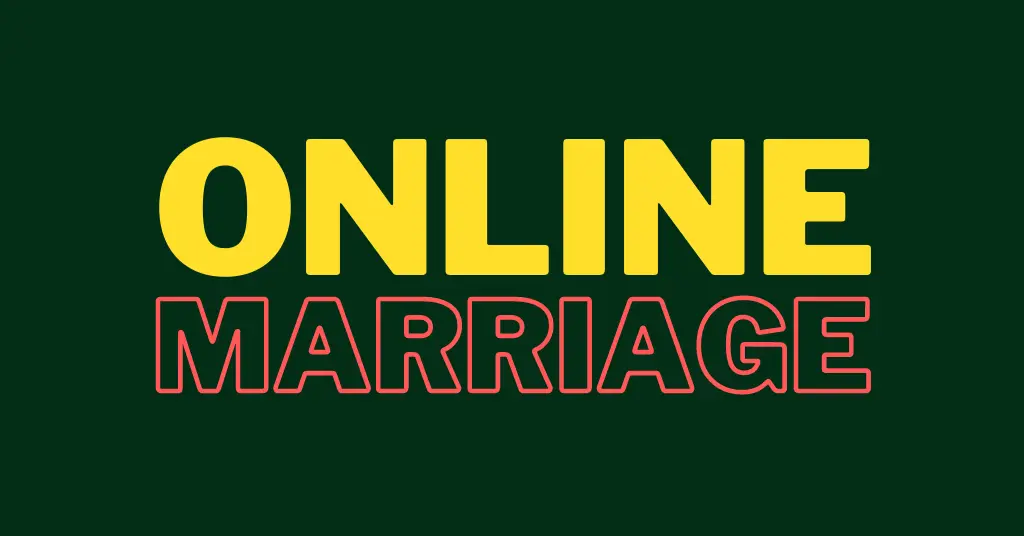 Online Nikah/Online Marriage Procedure in Pakistan can be Completed within Minutes
Online Nikah/Online Marriage Procedure in Pakistan can be Completed with Online Nikah within 20 Minutes only!
Getting an Online Nikah or Online Marriage is very easy in Pakistan, as it takes only 20 minutes.  A great choice for couples living in various cities or countries, such as the UAE, Saudi Arabia (KSA), UK, US, Canada, Australia, etc. 
Pakistanis also live and work in other states and cities in the United States, Canada, Australia, and Europe, including Dubai, Sharjah, Ajman, Abu Dhabi (UAE), Riyadh, Jeddah (KSA-Saudi Arabia), New York, Washington and California. As they often ask us about online marriage and nikah online through WhatsApp, Google Meeting, Zoom, or some other form of chatting software, we would like to assist them by answering their frequently asked questions. The entire online marriage procedure in Pakistan can be completed with online Nikah solemnization within a few minutes.
How can I do Online Nikah/Online Marriage?
By using Right Law Associates, you can perform an online nikah/online marriage that will be legally registered in Pakistan. We can assist our clients in obtaining attestations for their marriage from the Ministry of Foreign Affairs (which we can also do) and the relevant embassies once the marriage is legally registered in Pakistan. Then, our clients can use those attested documents to register their marriage in their country of residence.
Is it possible to do Online Nikah Over the Phone?
Yes, it is possible to perform an online Nikah or online Marriage over the phone and/or on Internet through various devices, including phones, tablets, and laptops.
Does Wali has to be present for Online Marriage with Shari'a Nikah?
For an online marriage, the Wali of a female/bride court marriage, and Shari'a Nikah online do not require a wali. In the case of Wali on the bride or groom's behalf, then that would be great, but in the event there is no Wali, Online Nikah can still be arranged.
Many Middle Eastern countries, including Saudi Arabia, the UAE, Oman, and Iraq, require 'wali' for brides. However, this is not the case in Pakistan. It is not required to have a wali for an online marriage in Pakistan (Nikah). In keeping with the new section added to Pakistan's Nikkah Nama, the couple must designate a vakeel, a proxy, an attorney, or a representative.
Is it possible for a Muslim girl to marry without WALI?
Without the consent of a wali, a Muslim women can marry with her free will in Pakistan and get the marriage registered. Such marriage with free will and without the approval is valid in Islam according to the Ahle-Sunnat (Hanafi fiqh) which is dominent in Pakistan.
According to the Lahore High Court:
"Men and women in Islamic law have the right to contract marriage voluntarily, and Islam's Constitution safeguards their matrimonial life under Article 35".
Can I Marry Without Witnesses?
No. Muslim marriage /Nikahcannot be done without Muslim, adult and sane witnesses. Right Law Associates can arrange witnesses for you if you do not have witnesses to proceed with your Online Marriage.
For an online marriage or nikah, how many witnesses are needed?
Online Marriage/Online Nikah require two Muslim witnesses. You must bring two witnesses to the wedding/Nikah ceremony. However, Right Law Associates can also arrange witnesses if you cannot. All you have to do is contact us. 
Marriage Online Marriage (Nikah Online) Through Attorney/Proxy
Obtaining Nikah/Marriage Certificate after registering their marriage/Nikah is possible for new-wed couple who appoint an attorney/vakeel and he will do the official work for them.
Registration of Online Marriage or Online Nikah in Pakistan
The registration of Nikah online / online marriage has become mandatory in Pakistan. Pakistani citizenship is not a requirement for both female and male candidates. Both spouses must be Pakistani nationals living abroad so they can register their marriage (Nikah) online in Pakistan. If either of the spouses is Pakistani and the wedding is solemnized there, the marriage must be registered in Pakistan. 
Complexity Of Online Marriage (Nikah Online) In Pakistan
Online nikah or online marriages might seem easy, but they can be tricky if you do not engage an experienced family lawyer. Due to the fact that two countries are involved in the Nikah/Marriage activity online, both countries' laws and requirements need to be considered. We participate in online nikah/marriage (shaadi) alongside government authorities. Performing an online Nikah or marriage in Pakistan may require you to prepare documents for another country. You may lose your online nikah/marriage (shaadi) if you make a small mistake in any step of the process.
The importance of hiring an experienced and professional online shadi lawyer cannot be overstated. Hiring an online nikah/marriage (shadi) lawyer who doesn't understand the process in-depth might lead to them misguiding you or omitting a crucial step. Pakistani nikah (marriage) online is considered more delicate than conventional marriage. Thus, mistakes or negligence are not allowed.
We Make the Online Marriage process quick and smooth
Our mission is to make Online Nikah or Online Marriage as quick and painless as possible, in just 20 minutes. Our rigorous process prevents future issues. Online marriage registration and marriage certificates are easily prepared with our online service provider which is a perfect marriage platform for Pakistanis. Please contact us so we can assist you.
Requirement & Procedure Of The Online Marriage (Nikah Online)
Any Pakistani living abroad can perform an Online Nikah in Pakistan. You must meet a few conditions before you can plan an online marriage (shadi).
Procedure Of Online Marriage (Nikah Online)
Email us the bride and groom's passports and CNICs pictures.

The bride and groom will be able to attend the online Nikah via video call after we set the date

Islamic tradition dictates that the Nikah Khawan starts with the Khutba-e-Nikah and ends with the Ejab-o-Qabool (asking the bride and groom to be spouses). Furthermore, there will be two Muslim witnesses along with the Wakeel/attorney/proxy.

Our team will process the rest of the Nikah documents as soon as the bride and groom sign the Nikah documents. Both parties will receive a marriage certificate. NADRA will issue the marriage certificate and the Nikahnama (Marriage Contract) from the Union Council.
Requirement Of The Online Marriage (Nikah Online)
Each party must be at least 18 years old. The sharia age for marriage/nikah in Pakistan is puberty (18 years and above).

There should be no pressure or compulsion on the bride or groom regarding nikkah/marriage (no one should force or pressurize them).

As in a traditional wedding, two witnesses, as well as the Qazi (also called the Nikah Khawan), should be present for online marriage.

Also, the bride and groom discuss a dower amount in addition to the Mehar
Documents Required For Online Marriage In Pakistan
We need the following documents from you in order to complete your online marriage in Pakistan:
The bride or groom must provide a power of attorney for an online Nikah or online marriage.

CNIC copies should be provided by the bride and groom.

We will need a copy of your B form or another educational document such as a transcript of records to verify your age without a CNIC.

Two copies of the CNIC and two witnesses for Nikah. In case you do not have witnesses, we can arrange them for you.

A second marriage requires a divorce or death certificate. A second marriage must also be approved by the Union Council.

An affidavit signed by the bride that demonstrates her free will and consent (we will assist you in obtaining this document).
The documents you will get from us after your Online Marriage, Nikah Online and Court Marriage:
After the court marriage procedure in Pakistan is successfully completed, you will receive the following documents as proof of your legal and official marriage. These documents will protect your family against any future unfortunate events.
 Two certified copies of your Nikahnama (Urdu or English)

 Attested/Notarized copy of the affidavit of free will by the bride.

 Original Marriage Certificate
We can help you with Court Marriage, Online Marriage, Online Nikah, and Qazi service at Right Law Associates
Right Law Associates in Pakistan is made up of a team of family lawyers with experience in online marriage, nikah, and shadi. In Karachi, Islamabad, and Rawalpindi, we provide online marriage (nikah) services. Whenever we conduct any online nikah or shadi (marriage), we make sure our clients are fully aware of the process. With our online marriage (shaadi) attorneys, you will be guided and supported at every step. A professional marriage will be arranged for you.
In addition to marriage in Pakistan, we also handle divorce, khula, child custody disputes, property disputes, and court marriages. All these areas are dealt with by our Karachi family lawyers and Islamabad marriage lawyers with a great deal of expertise in nikah/marriage.
We handle sensitive civil cases, which is why we guarantee the client's security and protect their rights. Our first priority is the client's trust. Our lawyers make sure that every client understands the entire legal procedure before accepting a case. This is demonstrated by the quality of our client list.
We are the best Lawyers in Pakistan: In addition to Family Law, Civil Law, Criminal Law, and Business Law, Right Law Associates has served clients since 1985. For over 30 years, Right Law has served you with professional legal attorneys. 
The best family lawyers in Karachi and Islamabad:  Our lawyers are the best and hand-chosen family lawyers in Karachi and Islamabad. Right Law Associates has offices across the country. Contact us today if you need a trustworthy lawyer in Karachi, Islamabad, Rawalpindi or Lahore to solve your matter in a short time.
We have decades of experience in a variety of family law areas, including court marriages, online marriages, nikahs, qazi services, divorce, Khula, child custody, child maintenance, separation, and dissolution of marriages (Tanseekh e Nikah). You can reach us at 0302-6644789 or [email protected] if you live in Karachi, Lahore, Islamabad or Rawalpindi and need legal advice. It would be our pleasure to assist you!
Frequently Asked Questions (FAQ)
Here are a few frequently asked questions about Online Marriage or Nikah Online:
Q: Can you get married over the Internet?
Yes, Technology has made that possible. Now any video conferencing application such as Skype, Whatsapp, Zoom, etc. can be used for Online Marriages or Nikahs Online. 
Q: Is it possible to do Nikah online? 
Yes. By contacting us, you can arrange an online marriage. We will arrange your marriage online within 20 minutes after reviewing all the necessary documents. 
Q: Can I get married online in Pakistan?
Yes. Every Pakistani citizen can perform online marriages or Nikahs, whether they reside in Pakistan or abroad. 
Q: In Islam, can you get married over the phone?
It is permissible to do the marriage contract over the phone or internet if there appears to be no risk of tampering, the identities of the husband and fiancée are verified, and both witnesses hear the proposal and accept it. According to Shaykh Ibn Baaz's fatwas.
Q: How do I register for marriage online in Pakistan?
We perform Nikah online by the Hanafi School of Thought and the Pakistani Marriage Law, namely, the Family Courts Act 1964 and the Muslim Family Law Ordinance 1961.
Q: What is the role of a Nikah Registrar?
According to section 5 of Ordinance VIII of 1961, a license is granted to one or more persons to register marriages under the Muslim Family Law Ordinance 1961. This person or persons is called a Nikah Registrar.
Q: Can online Nikah services be used by anyone in Pakistan?
Those who marry a Pakistani from abroad or overseas can use the Nikah Service online.
Q: Who will be the wali in Nikah?
There are several meanings associated with the Arabic word wali. 
The 'Wali' is someone with authority, a guardian, or a position of authority over someone; in Islamic law, the Wali is specifically "a person authorized by the bride to conclude a marriage contract and to select the groom for the bride".
The bride, groom, and wali (male guardian) of the bride must consent for a Nikah (marriage) to be valid. On the other hand, Hanafis claim that wali's permission is not needed for Nikah.
Walis are typically the bride's father or, if the latter is absent, the groom's grandfather or brother. As wali mujbir, a qazi can be a father, brother, or spouse (a mahram) if you do not have any Muslim relatives.
Q: Who can avail Online Nikah Service?
Our Nikah Online Service includes all Nikah documents worldwide. In addition to Karachi, Lahore, Islamabad, Rawalpindi, Dubai, London, and New York, we provide marriage registration services worldwide. 
Q: Where can I get a Nikah certificate?
Using the services of Right Law Associates, you can get your Nikah Certificate within a week after performing Nikah and registering it with the Union Council.
Q: How does the Online Nikah Procedure work?
Our online Nikah service is simple and convenient. We follow Hanafi Islamic doctrine in our procedures.
A videoconference Nikah service fulfils all Nikah conditions. These conditions include:
Presence of two Male witnesses

Offer and Acceptance by the respective spouses

Vakeel/ Representatives from Both parties

Fulfillment Mehr (dower amount)
It is not mandatory that the bride or the groom personally attend their Nikah ceremony, as outlined in the Nikah terms above. For a person to accept or offer Nikah, they must be an authorized representative. Sharia law requires that Nikkah be performed legally. As the entire process follows sharia law, all of the above requirements are met.
Q: What is the process for getting a computerized Nikahnama?
In Pakistan, Nikahnama is issued by Nikah Registrar. We can provide you with your NADRA marriage registration certificate within a week if you depute our law company, Right Law Associates for this work.